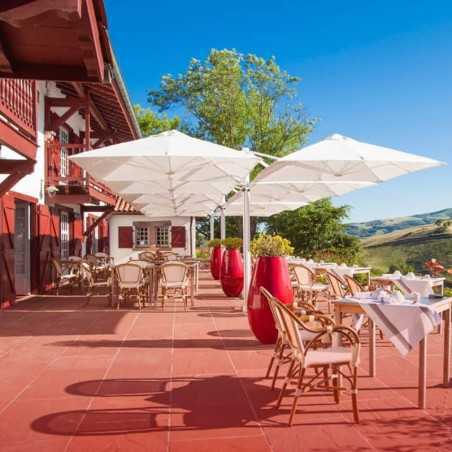  
Gourmet Getaway - Auberge Ostapé
Gourmet Getaway - Auberge Ostapé
The restaurant is located in a 17th century mansion. This gastronomic restaurant has a panoramic terrace with a view of the mountains.
The oak cellar, open to the room, reveals the most beautiful wines of the hillsides of Irouléguy and Riojas, as well as Pomerols and other nectars...
This restaurant is also a private Porsche museum and a luxury concierge for exceptional cars. It is in the heart of the 45 hectares of hills that you can come and admire this rare collection of Porsche models.
Ecurie Ostape pays tribute to this legendary and emblematic brand.
"Formula Gourmet Escapade"
(only at noon for 2 persons, meal included)
Departure from Biarritz Airport at 12.15 pm
Visit to the Porsche Museum
Gastronomic meal
Return 3:00 pm Biarritz Airport
Price 600 € incl. VAT
Data sheet
Flight departing from:

Aéroport de Biarritz Parme
FAQs
Quelle est la différence entre un hélicoptère à turbine ou à piston ?

Un hélicoptère à turbine garantie une sécurité maximale. 
4 other products in the same category: