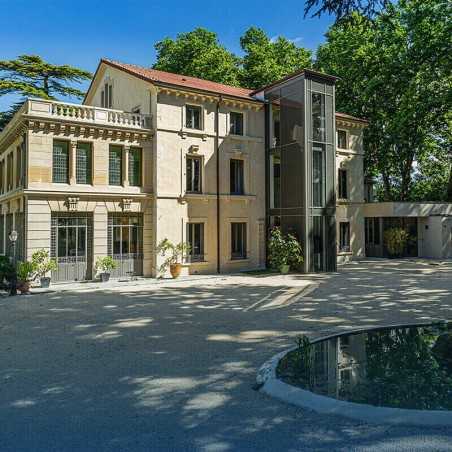  
Gourmet Getaway - Manoir le Roure
Gourmet Getaway - Manoir le Roure Châteauneuf-du-Rhône
Access to the best restaurants in the Rhône Alpes region.

Jet Systems allows you to reach an isolated restaurant difficult to access in a few minutes from the airport of Valence Chabeuil.  
Restaurant with the scents of Provence, you will take your meals according to the season in the superb Orangery, in the panoramic terrace shaded by hundred-year-old trees, in the dining room, or in the private lounge for more intimacy.
The chef proposes a menu of dishes elaborated with fresh products of the region.
The wine list will propose you prestigious wines as well as AOC wines of the region.
FAQs
Quelle est la différence entre un hélicoptère à turbine ou à piston ?

Un hélicoptère à turbine garantie une sécurité maximale. 

Quel est le temps d'attente du pilote sur place ?

L'offre comprend deux heures d'attente du pilote pendant votre déjeuner.
4 other products in the same category: