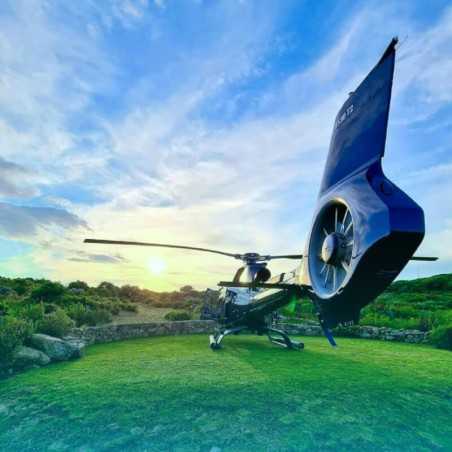  
Panoramic Flight Sea and Mountain Tour - Corse

Treat yourself to an unforgettable panoramic flight in the air, in Corse!
Course of your panoramic helicopter flight
Upon your arrival, you will be welcomed at the helipad of Porto-Vecchio by our team.
After the presentation of your E-ticket and ID, a safety briefing will be given before take-off.
Bavella Mountain Circuit (about 30 minutes flight)
You will be able to fly over the waterfall of Piscia di gallo before continuing the climb towards the Bavella massif.
You will discover the pass and the village as well as the hole of the bomb and the refuge of Paliri.
After having evolved in the middle of these gigantic and splendid granite peaks, the pilot will join the Eastern coast at the level of the bay of Fautéa or a superb Moorish tower to preserve the coastline and to make discover to his passengers, the luminous bays of Pinarellon St Cyprien.
The entry in the gulf of Porto Vecchio at the bottom of which they will discover the saltworks, which formerly gave their name of "Cita di sale" to this seaside city so visited nowadays.
Bonifacio Sea tour (about 30 minutes flight)
You will discover the city of Bonifacio, its white and luminous limestone cliffs with contours eroded by the winds, then the gulf of Spérone, the ford of Piantarella through the Lavezzi and Cavallo islands, going up the wild coast, the bays of Rondinara, Sta Giulia, Palombaggia.
Before entering the gulf of Porto Vecchio by the Chiappa to discover, nestled on its northwestern flank, the "Cita di sale" and its salt marshes that gave it its name.
FAQs
Quelle est la différence entre un hélicoptère à turbine ou à piston ?

Un hélicoptère à turbine garantie une sécurité maximale. 
2 other products in the same category: